RAM 1500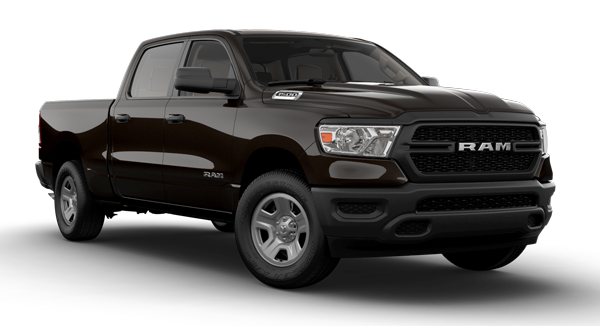 Ford F-150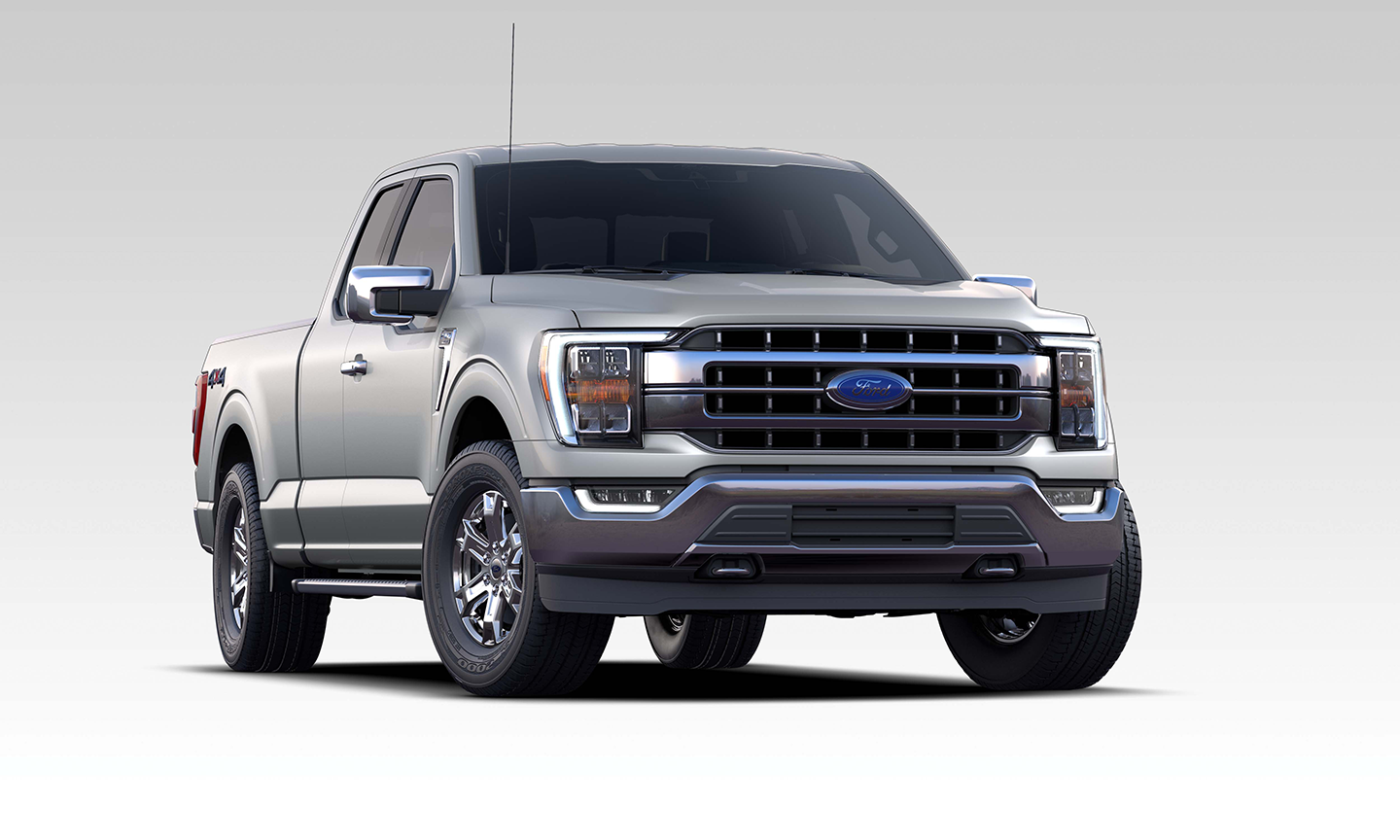 2021 RAM 1500 Vs. 2021 F-150 in Andalusia, AL
Few cars can accomplish the hauling and towing that is characteristic of a reliable pickup truck. Options like the 2021 RAM 1500 also blur the line between luxury and utility. It is spacious, comfortable, and powerful. Compared to classics like the 2021 Ford F-150, the 2021 RAM 1500 looks like one of the best vehicles you can buy.
Once you have read how these steely pickups compare, please visit us at Walt Massey CDJR in Andalusia, AL, to test drive one of these today. You can have all of your questions answered about any of our inventory and see which car fits your lifestyle best.
Interior Comparison
The 2021 RAM 1500 comes in several cabin and bed configurations, all of which provide more space and comfort than the 2021 F-150. If you want to make the most of your car, you should optimize space based on your needs. The Regular Cabin fits two and can be had with the long bed. The standard bed can be had with the Crew Cab. The Quad Cab only has a short bed option, which is available on the Crew Cab as well.
The 2021 RAM 1500 also uses upscale materials to make it feel more luxurious. You have options like heated and ventilated seats, leather accents, and wood surfaces. You also have a premium infotainment system with Apple and Android compatibility.
RAM 1500 Interior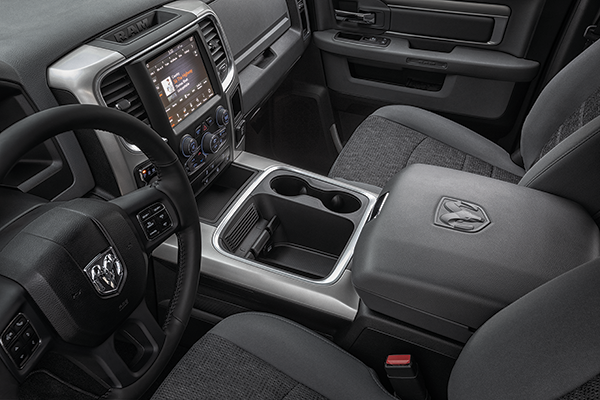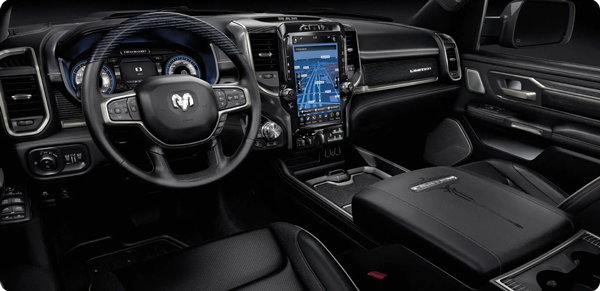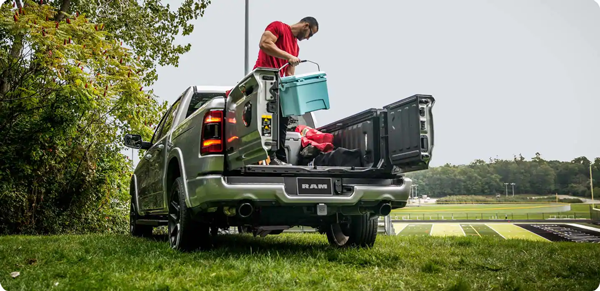 Ford F-150 Interior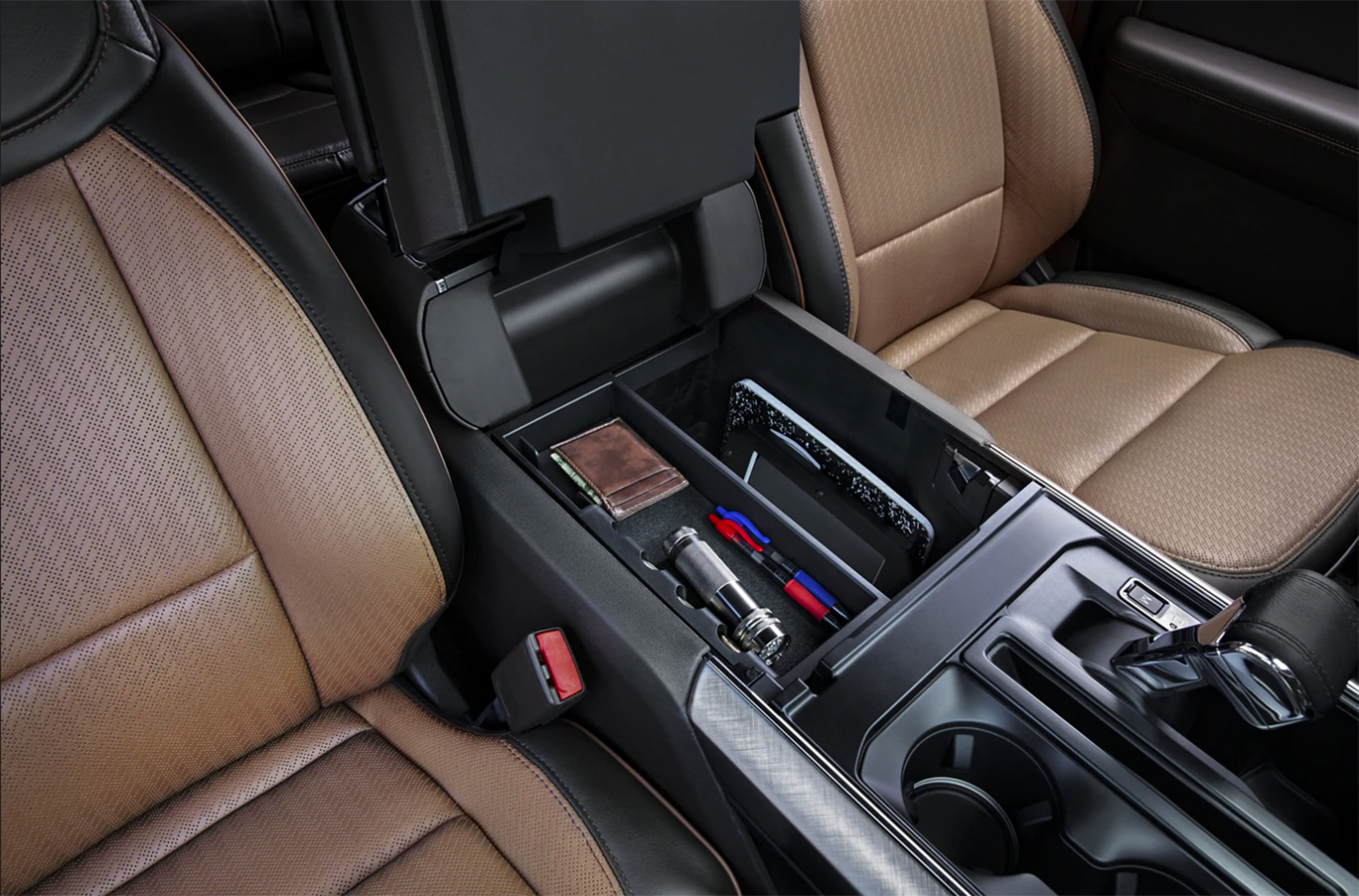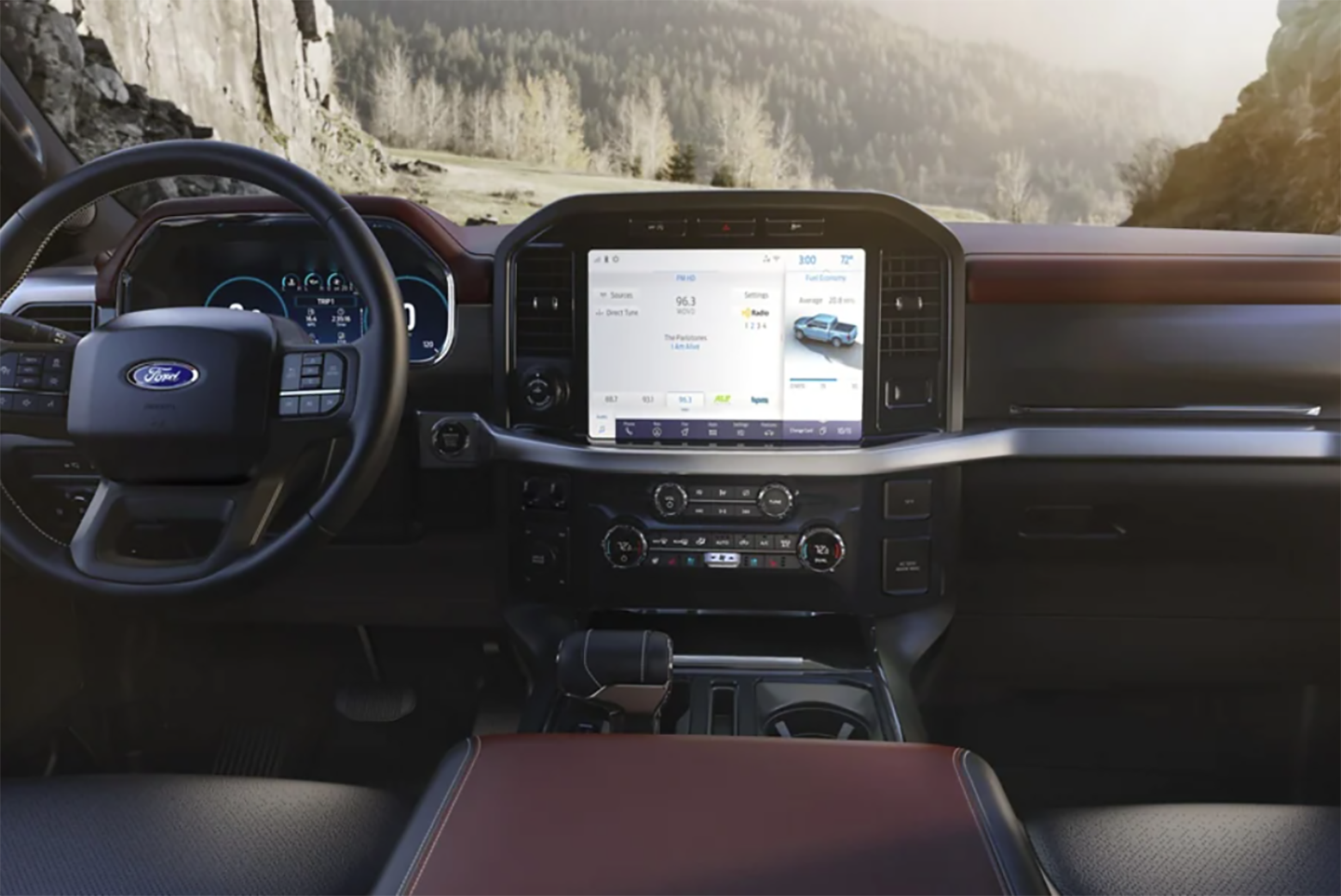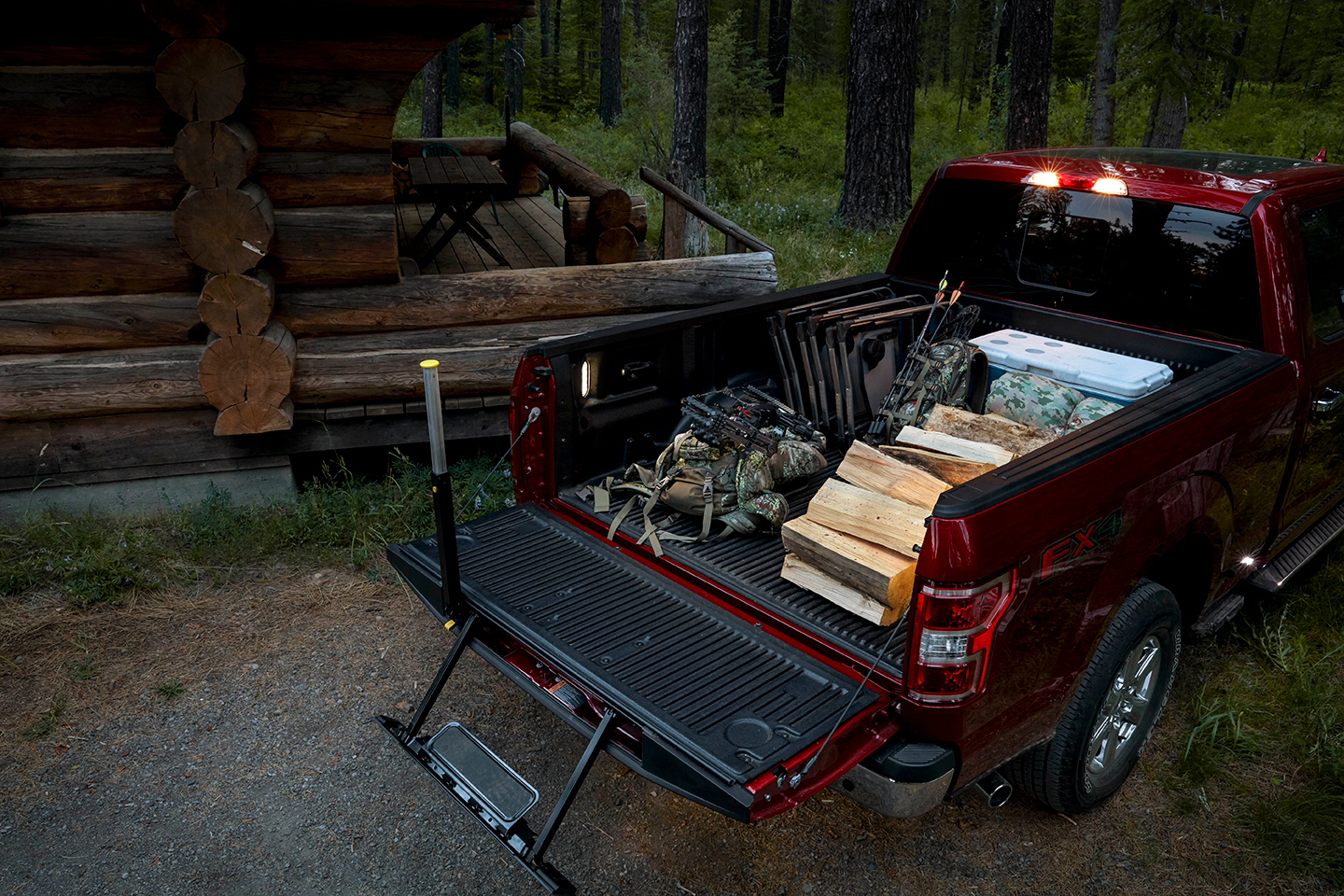 Performance Comparison
The 2021 RAM 1500 is equipped to tow up to 12,750 pounds. It all depends on the size of the car and the engine. The F-150 has a slightly higher towing capacity. The 2021 RAM 1500 also has superior fuel efficiency for cars its size. This is because the 2021 RAM 1500 has many hybridized powertrain options.
The V6 and V8 RAM 1500 engines pair with a 48-volt hybrid system, though this is optional in the V8. There is also a diesel V6 that puts out high amounts of torque. The diesel system is also more efficient than the gas-only V8, though its weight slows the truck down. Rear suspension makes use of coil springs or air springs for great driveability.
Safety Features Comparison
Safety is important, and the 2021 RAM 1500 has impressive crash ratings and great driver-assist technologies to help in this department. The National Highway Traffic Safety Administration gave it five stars out of five stars. It has features like adaptive cruise control, automatic high-beam lights, and automatic emergency brakes. The 2021 F-150 is no stranger to safety, but it does not come close to the 2021 RAM 1500.
Find the 2021 RAM 1500 in Andalusia, AL
If you want more convincing of the 2021 RAM 1500, please visit us at Walt Massey CDJR. We have great options and the lowest prices in Andalusia, AL. You can drive any of our vehicles and have all of your questions answered. Our associates will also help you through the next steps in the buying process.