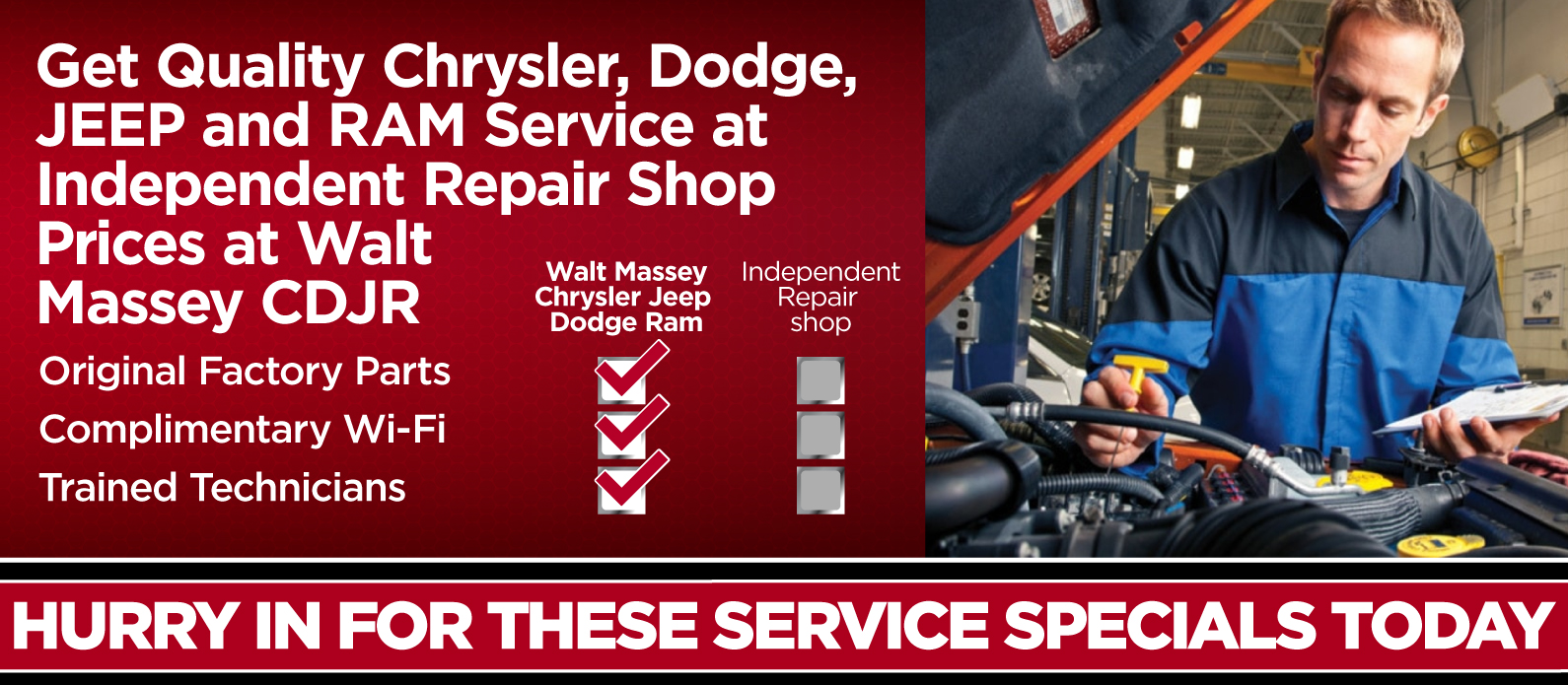 *One coupon, per customer, per visit. Must present coupon when order is written. Not valid with any other offers or specials. Offer expires 3/31/22. ©2022 Strong Automotive Merchandising. All Rights Reserved.

Auto Service Deals Near Andalusia, AL
No matter what type of car you drive – whether it's a used bargain buy or a luxury-loaded sedan hot off the production line – it is going to need routine maintenance and occasional repairs and parts replacements in order to continue operating at its best.
Many drivers cringe at the very idea of taking their cars in for service for one main reason: the cost.
Walt Massey Chrysler Dodge Jeep RAM is striving to change the stigma of automotive service as being expensive and inconvenient. By doing this, we'll get more of our valued customers to take better care of their vehicles – and that's a good thing for everyone!
We start with low everyday service prices on some of the most commonly needed repairs and maintenance tasks. That gives us an affordable baseline to start from, and our customers like that. But then we also offer a lineup of service and parts discounts that can multiply those savings in a big way!
Convenient, Budget-Friendly Auto Service
Your time is just as valuable as your money. For that reason, we make it simple and convenient to get your vehicle taken care of by our automotive pros quickly and efficiently. You can schedule an appointment online for a date and time that works with your busy life and then trust us to give your vehicle our undivided attention when you arrive.
Our technicians will perform a thorough inspection and go over their findings with you before they begin any job. That way, there will never be any unpleasant surprises when it comes time to pay.
When you're on our site to schedule your appointment, make sure to check out our current service offers and see if you can take advantage of additional savings on the maintenance and repairs your car needs most.
Expert Car Care in Andalusia, AL
Putting off auto service and repair can do a lot of damage. It can lead to bigger and costlier automotive problems and, worse, it can put you and your passengers in danger. That's why it's always best to be proactive about car care.
When you make use of the valuable service deals at Walt Massey Chrysler Dodge Jeep RAM, you won't need to make excuses when it comes to getting your car serviced! Trust our expert technicians to get every job done quickly and correctly and get you back on the road fast – with more cash in your pocket than you ever expected.
The peace of mind comes free of charge.