Affordable Brake Service In Andalusia, AL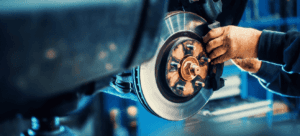 Many new cars on the market now come with driver assistance features that can detect potential collisions and apply the brakes for you if need be. As amazing as this technology is, it relies on one of the most important pieces of safety equipment in your car – the brakes. 
It's critical that your bakes are in good working order so that they can keep you safe on the road. To do this, you'll need to have your brakes inspected and maintained regularly by trained automotive professionals. When it's time for a brake checkup, you can always count on the team at Walt Massey Chrysler Dodge Jeep RAM to complete your brake service quickly. 
When you bring your vehicle in for a brake inspection, our highly-trained automotive technicians will take a look at the entire brake system and note the condition of each component. If any part of your brakes needs replacing, we'll let you know and get you an estimate for the cost of the work. We keep our prices affordable so that you never have to compromise your safety on the road because of steep service costs. 
Signs That Brake Work is Needed
Your vehicle's brakes are crucial to staying safe while you drive, so it's important to notice symptoms of worn-out brakes as they arise. Any issues you have will only grow worse the longer you drive on them, and that can further compromise your safety. If you notice that your car isn't braking as smoothly or as quietly as it used to, the best course of action is to make an appointment at our service center for a brake inspection. 
Symptoms can vary from car to car, but look out for these common signs that it's time for maintenance: 
Slack brake responsiveness

Grinding sound or feeling  

Screeching or whining noise

Vibrating or shaking
If something sounds wrong or feels strange, trust your instincts and bring your vehicle in to us. We'll make any repairs necessary to ensure your brakes function properly, keeping you safe when you drive around Andalusia.
Fast and Easy Brake Service in Andalusia, AL
At Walt Massey Chrysler Dodge Jeep RAM, we work hard to ensure that your service appointments are convenient and affordable. When you need high quality brake service in Andalusia, our service center is here to provide the services you need at prices you'll feel comfortable paying. Book your next brake service online at Walt Massey Chrysler Dodge Jeep RAM.