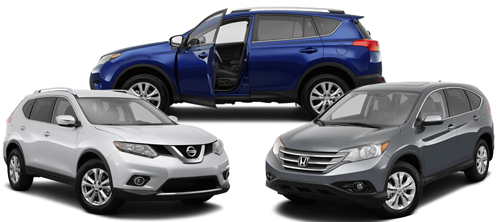 Used SUV Deals in Andalusia, AL
When you're purchasing an SUV, finding one that meets your budget is often just as important as finding one that fulfills your list of wants and needs. Though SUVs are popular vehicles, they are large and often have incredible selections of technology and safety features that can bump the price point out of many drivers' budgets.
If you're on a budget and want to get an incredible deal on an SUV, consider purchasing a used model from Walt Massey Chrysler Dodge Jeep RAM. A little bit of time and research of our extensive selection will yield great savings. Our inventory of pre-owned SUVs is unmatched – we offer your favorite Chrysler, Dodge, Jeep, and RAM SUVs as well as SUVs from other popular automakers, all at prices you won't want to drive past!
Our inventory frequently changes as money-smart drivers in and around Andalusia purchase used SUVs at unbelievable prices from our dealership. Whether you're set on a full or midsized SUV or a compact crossover, you know you'll drive home with a good deal from Walt Massey Chrysler Dodge Jeep RAM.
Special Offers on Used SUVs
At Walt Massey Chrysler Dodge Jeep RAM, one of our most important goals is to provide an excellent car-buying experience through incredible deals on new and pre-owned vehicles alike. When you want to make your budget for an SUV go further, shop out extensive selection of used SUVs in Andalusia, AL. All of our vehicles are priced to sell, and when you combine our low prices with our special offers and deals, you'll save more than you ever imagined!
Go ahead and browse our current inventory of used SUVs online to see which ones are your favorites. For the truly budget-savvy driver, we even have a selection of vehicles priced under $10,000.
Once you've found the SUV that meets all of your wants, needs, and budget, turn to our team of financial experts. They'll be happy to help you through the process of finding an outstanding car loan with low interest and terms you'll be happy with.
Find Your Used SUV at Walt Massey Chrysler Dodge Jeep RAM
When you're looking for a high-quality used vehicle that offers all of the features, quality, and exceptional value, you'll find exactly what you're looking for at Walt Massey Chrysler Dodge Jeep RAM.
Start your car-buying journey by checking out our inventory online, then, when you're ready to get behind the wheel for yourself, head on over to our conveniently located dealership for a few test drives. We can't wait to help you find the perfect SUV for all of your needs!
The free online div table editor allows you to create and convert nice grids for your websites. Please subsribe for an HTMLG membership to stop adding promotional messages to the edited documents.