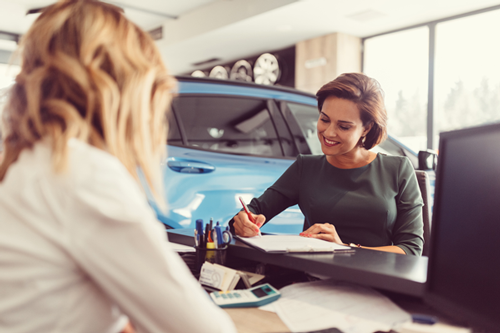 Chrysler Dodge Jeep Ram Lease Options in Andalusia, AL
If you're in the market for a new car, but you're unsure about having high monthly payments to finance your car, we have the perfect solution for you. Why not lease a new car from Walt Massey CDJR? Leasing offers many benefits over financing, including savings on your monthly payments.
While we take care to price each of the vehicles on our lot competitively, you might be surprised to see the savings add up with each low monthly payment. When you lease from Walt Massey CDJR your dream car could be more affordable than ever.
Leasing vs. Financing at Walt Massey CDJR
When Walt Massey CDJR is your car-buying destination, you'll get a great deal whether you choose to lease for finance, but it's important to understand which option is best for your needs and financial situation.
The biggest difference between leasing and financing is that when you lease, your monthly payments don't go towards owning the vehicle free and clear without an auto loan. Instead, the monthly payments on your lease allow you to use the vehicle each month during your lease agreement. Because you won't own the car at the end, you'll usually have lower payments than if you financed your car.
The other big difference is that when your lease agreement comes to an end, trading it in for a new vehicle is easy. All you have to do is bring your old leased vehicle back to us at Walt Massey CDJR and pick out your next Chrysler, Dodge, Jeep, or RAM vehicle to lease or buy.
Benefits of Leasing A Vehicle
In addition to knowing the differences between leasing and financing, knowing the benefits of leasing will help make the decision even easier. As you're weighing your options, we encourage you to consider the following lease benefits:
Your monthly payments will generally be much lower with a lease than with a traditional automotive loan.
Leases are shorter terms than financing and owning the car, just a few years or so, meaning your commitment to the car is shorter, too.
Because leases are only a few years in length, you can get a new car every few years, allowing you to experience all of the new trends and advances the automotive industry has.
Your trade-in process will be smooth as can be. Just return your old leased vehicle to us at Walt Massey CDJR and pick out your new one!
Buy or Lease From Walt Massey CDJR
Whether you decide to lease or finance, you'll drive home in a fantastic Chrysler, Dodge, Jeep, or RAM vehicle at an equally incredible price. We have all of your favorite CDJR vehicles in stock ready for you to explore online.
The best part is that all of our vehicles have everyday low prices, so any extra savings or leasing deals will make your dream car even more affordable at Walt Massey CDJR. Explore our inventory online to find your new car today!